JOE DAN BOYD COMMUNICATIONS
Where the right word is everything
LET JOE DAN MAKE ALL YOUR STORIES SING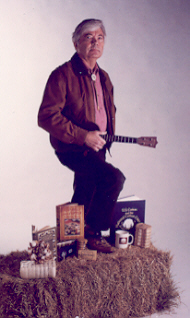 JOE DAN BOYD
Writer, editor, author, writing coach, storyteller, folklorist
Photo at left by Holly Kuper
---

Contact Joe Dan at joedan@joedanboyd.com for writing assignments and open dates for seminars, workshops or performance bookings. He has served as President of the American Agricultural Editors Association (AAEA), and won several of its national writing awards. His back-to-back wins as Writer of the Year for two years running was an industry first!
THE WRITE STUFF
Joe Dan excels in personality profiles. He was an early winner of AAEA's Master Writer award, and the first journalist to be named a Writer of Merit. His work has also been cited for excellence by the North American Agricultural Journalists.
THE WRITE MAN
Joe Dan delayed college to serve as State FFA President, received FFA's American Farmer Degree, wrote for the Fort Worth Star-Telegram, National FFA Magazine and was a longtime editor at Farm Journal. Joe Dan's body of work has earned the Oscar in Agriculture for Career Contributions.

THE FOLKLORE FACTOR
Joe Dan was born and reared on a farm near Winnsboro, Texas, where he attended high school and now offices on land he
once tilled. At Texas A&M, Joe Dan earned a bachelor's in agricultural journalism. Later, he earned a master's in folklore at the University of Pennsylvania, where he pioneered the first discography & analysis of American farm songs. He also collected field recordings of shape note singing among African-American songsters which led to his book, Judge Jackson and The Colored Sacred Harp, available from many booksellers or directly from the publisher's website at http://alabamafolklife.homestead.com/~shop/books/judge-jackson-and-the-colored-sacred-harp-by-joe-dan-boyd/270492/
Cover painting by Jack DeLoney.
THE WRITE WORDS
As a speaker & storyteller, Joe Dan's big bass ukulele & vintage 0-17 guitar enliven performances in stage, school, workshop & seminar venues. His repertory spans legend & lore of cotton pickers, cow punchers & inspirational tales of God & country:
Freedom's Light
Winnsboro Cotton Mill Blues
The Cowboy Way
Hold Fast to That Which Is Good
Rainbows Follow The Rain
Showers Of Blessings
Give The World A Smile
THE WRITE WORKSHOPS
Joe Dan's interactive workshops focus on self-discovery of habits, habitat & handicaps that define, enhance or limit creativity. Find your voice, hone your style, play to your strengths & cope with real-world demands. Joe Dan's writing workshops have been featured at the national Agricultural Publications Summit.
Some of Joe Dan's writing clinic topics:
INSTINCT WRITING: This magic we call motivation.
THE ORGANIZED WRITER: Write ways to cut clutter & chaos.
THE VOICE OF STYLE: Style is structural; voice is visceral.
PERSONALITY: The art of writing personality profiles.
INTENSIVE INTERVIEWS: Get people to really talk, not just answer your questions.
WRITE TO WIN: The skinny on writing award contests.
WORDS & WIT: Get serious about humor writing.
WORDS & MUSIC: Tell all your stories with rhythm, cadence & lyrical power.

---



Contact Joe Dan:

JOE DAN BOYD COMMUNICATIONS
Where the right word is everything


Joe Dan is the write man!

Photo by Holly Kuper

http://hollykuper.com/